Share: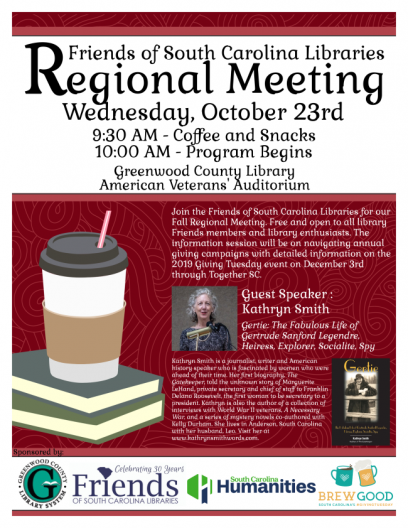 Join the Friends of South Carolina Libraries for a Fall Regional Meeting at the Greenwood County Library - Main Branch on Wednesday, October 23rd. Check in and coffee begins at 9:30 am with the program starting at 10:00 am. Free and open to all library Friends members and library enthusiasts. Register today on Eventbrite.
Open discussion and sharing will be encouraged among all who attend. The information session will be on navigating annual giving campaigns with detailed information on the 2019 Giving Tuesday event on December 3rd through Together SC.
The Guest speaker is Kathryn Smith, an author whose newest release is titled Gertie: The Fabulous Life of Gertrude Sanford Legendre, Heiress, Explorer, Socialite, Spy.
For questions contact fosclpresident@gmail.com or call (803) 261-8697.