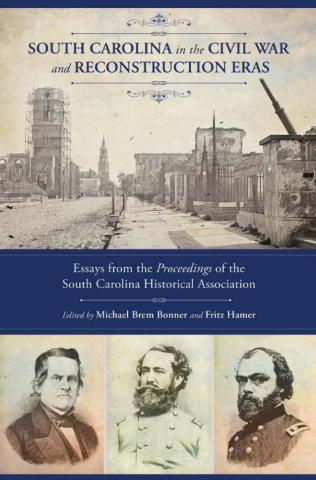 Join us June 1 for our next author talk and book signing: South Carolina in the Civil War and Reconstruction Eras: Essays from the Proceedings of the South Carolina Historical Association by Michael Bonner and Fritz Hamer.
Bonner and Hamer, past officers of the South Carolina Historical Association, selected twenty-three essays to create this treasure trove of scholarship. The authors will discuss race, politics, military events, and social issues during the Speaker @ The Center session.
All programs take place from noon to 1:00 p.m. at the South Carolina State Library, 1500 Senate Street, Columbia. Please visit our map & directions page or call 803-734-8666 for parking information. For more information about Speaker @ the Center, please visit ReadSC.org.
Speaker @ the Center is FREE and open to the public; however, we ask that attendees register online to guarantee a seat. Books will be available for purchase and signing.
For more information, please contact Andersen Cook, Statewide Initiatives Coordinator at (803) 545-4432.
IF YOU GO
WHEN: June 1, from 12 p.m. to 1 p.m.
WHERE: South Carolina State Library, 1500 Senate Street, Columbia, SC
COST: Free