Share: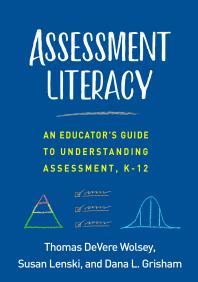 Did you know your South Carolina State Library card gives you access to ProQuest's Ebook Central? You can access a wealth of information right from your computer or mobile device! Use Ebook Central to quickly and easily find relevant ebooks and chapters; read online; search within the ebook; and highlight, take notes and bookmark pages in your online copy, stored on your bookshelf for you. You can also share your research with others, download ebooks and chapters to your laptop or mobile device, and more.
To access Ebook Central to find this new title and others, visit our Collections page and scroll to the bottom and login using the barcode number on the back of your South Carolina State Library card. If you don't have a card with us, visit our Get a Library Card page and register today.
Featured Ebook
Assessment Literacy : An Educator's Guide to Understanding Assessment, K-12. Thomas DeVere Wolsey, Susan Lenski, Dana L. Grisham, and Diane Lapp
This clear, no-nonsense book guides current and future teachers through the concepts, tools, methods, and goals of classroom literacy assessment. The expert authors examine the roles of formative, summative, and benchmark assessments; demystify state and national tests and standards; and show how assessment can seamlessly inform instruction. Strategies for evaluating, choosing, and interpreting assessments are discussed, as are ways to communicate data to parents and administrators. User-friendly resources include boxed vignettes from teachers and researchers, practical assessment tips (and traps to avoid), and 12 reproducible planning forms and handouts.
More featured titles from Ebook Central:
Broke : The Racial Consequences of Underfunding Public Universities. Laura T. Hamilton and Kelly Nielsen
Public research universities were previously able to provide excellent education to white families thanks to healthy government funding. However, that funding has all but dried up in recent decades as historically underrepresented students have gained greater access, and now less prestigious public universities face major economic challenges. In Broke, Laura T. Hamilton and Kelly Nielsen examine virtually all aspects of campus life to show how the new economic order in public universities, particularly at two campuses in the renowned University of California system, affects students. For most of the twentieth century, they show, less affluent families of color paid with their taxes for wealthy white students to attend universities where their own offspring were not welcome. That changed as a subset of public research universities, some quite old, opted for a "new" approach, making racially and economically marginalized youth the lifeblood of the university. These new universities, however, have been particularly hard hit by austerity. To survive, they've had to adapt, finding new ways to secure funding and trim costs—but ultimately it's their students who pay the price, in decreased services and inadequate infrastructure. The rise of new universities is a reminder that a world-class education for all is possible. Broke shows us how far we are from that ideal and sets out a path for how we could get there.
---
Building Educational Equity Indicator Systems : A Guidebook for States and School Districts. Engineering, and Medicine National Academies of Sciences, Division of Behavioral and Social Sciences and Education, Committee on National Statistics, and Natalie Nielsen
How can states and schools use data to support their efforts to improve educational equity? Building Educational Equity Indicator Systems: A Guidebook for States and School Districts, provides information to help state and school district leaders develop ways of tracking educational equity within their preK-12 systems. The guidebook expands on the indicators of educational equity identified in the 2019 National Academies report, Monitoring Educational Equity, showing education leaders how they can measure educational equity within their states and school districts. Some of the indicators focus on student outcomes, such as kindergarten readiness or educational attainment, while others focus on student access to opportunities and resources, such as effective instruction and rigorous curriculum. Together, the indicators provide a robust picture of the outcomes and opportunities that are central to educational equity from preK through grade 12. For each indicator of educational equity identified in the report, the guidebook describes what leaders should measure and what data to use, provides examples of data collection instruments, and offers considerations and challenges to keep in mind. The guidebook is meant to help education leaders catalogue data they already collect and identify new data sources to help them fill gaps.
---
School Choice Myths : Setting the Record Straight on Education Freedom.Corey A. DeAngelis and Neal P. McCluskey
Are there legitimate arguments to prevent families from choosing the education that works best for their children? Opponents of school choice have certainly offered many objections, but for decades they have mainly repeated myths either because they did not know any better or perhaps to protect the government schooling monopoly. In these pages, 14 of the top scholars in education policy debunk a dozen of the most pernicious myths, including "school choice siphons money from public schools," "choice harms children left behind in public schools," "school choice has racist origins," and "choice only helps the rich get richer." As the contributors demonstrate, even arguments against school choice that seem to make powerful intuitive sense fall apart under scrutiny. There are, frankly, no compelling arguments against funding students directly instead of public school systems. School Choice Myths shatters the mythology standing in the way of education freedom.