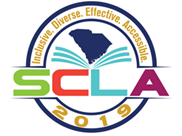 Make a difference in South Carolina libraries in 2020! You can make a difference by bringing your knowledge, energy, and expertise in libraries to SCLA. Serving as a SCLA Executive Board officer allows you the opportunity to help South Carolina libraries by shaping the future of library service in our state.
Not sure you are the right person to serve at this time, but you know someone who would be the perfect person to make a difference? Then nominate that person for a position! Before making your nomination, talk with that person about why you believe they can make a difference by serving.
Nominations are being accepted for the following 2020 SCLA Executive Board officers:
President
1st Vice President / Conference Committee Chair
2nd Vice President / Membership Committee Chair
Secretary
The Treasurer and ALA Councilor will be continuing an existing term through 2020.
All officer nominations must be current members of SCLA.
Visit the SCLA website to go to the form to self-nominate or nominate an individual for a SCLA Executive Officer position.
NOMINATIONS MUST BE SUBMITTED BY 5 P.M. ON FRIDAY, AUGUST 16, 2019. *Note, this deadline has changed to meet bylaw standards*
Just in case you are still wondering if becoming a SCLA Executive Officer is right for you? Here are 4 reasons to consider running for a SCLA Executive Board office!
1. Give Back to the Profession
You have experienced a successful career and had the good fortune of working with people who helped you along the way. Why not offer SCLA and your colleagues the benefit of your knowledge and expertise by serving as a SCLA Executive Board Officer?
2. Influence South Carolina Libraries
As a SCLA Executive Board member, you can help determine its strategic priorities, promote its benefits, measure its value, modernize its practices, and advocate and catalyst for improving South Carolina libraries.
3. Help Ensure Wise Use of SCLA Resources
One of the most important responsibilities of SCLA Executive Board members is to oversee management of the organization's finances and resources. Financial planning and management involves approving budgets which meet the goals and objectives of SCLA. Executive Board members are intimately involved in crafting and adhering to SCLA's future plans.
4. Develop Your Leadership Skills
Making good Executive Board decisions requires consensus building, collaboration, and compromise to come to mutual decisions about SCLA's mission, goals, and operations. The skills you acquires as a SCLA Executive Board Officer you can apply where you work and in your future endeavors.