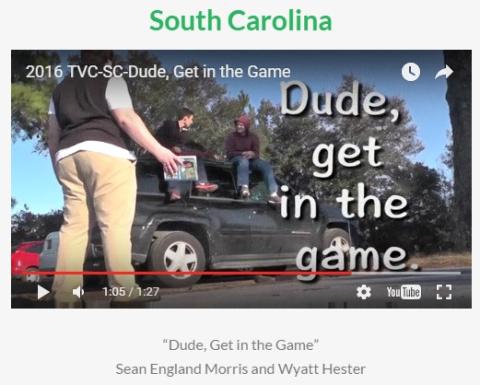 The Collaborative Summer Library Program (CSLP) recently announced the winners of the 2016 Teen Video Challenge. The Teen Video Challenge is a national competition for teens to get involved with reading and their public library's summer reading program. Winning videos were selected at the state level to be recognized as an official CSLP Teen Video Challenge winner for 2016. South Carolina's winners were Sean England Morris and Wyatt Hester representing the Georgetown County Library for their video titled, Dude, Get in the Game.
This video competition was in its sixth year of encouraging teens to get involved with promoting summer reading and public libraries with a focus on the CSLP 2016 slogan, "Get in the Game - Read." Each participating state selected one winning video to be named the official CSLP Teen Video Challenge state winner for 2016. Twenty-five states and over one hundred teens participated in the creation of these winning videos.
The winners were announced the week of April 18, 2016 during the CSLP Annual Meeting held in Salt Lake City, Utah.
Official CSLP Teen Video Challenge winners were named from the following states: Alabama, Arizona, California, Connecticut, Colorado, Delaware, Florida, Georgia, Idaho, Indiana, Iowa, Louisiana, Massachusetts, Montana, New Jersey, New Mexico, New York, North Dakota, Ohio, Oregon, South Carolina, Texas, Vermont, Washington, and Wyoming.
To view this year's winning videos, please visit CSLP's website at www.cslpreads.org. The winning videos can be used by all teens and all public libraries to promote summer reading nationwide.
The winning videos exemplify the diversity of our country and of the teens that created them. Whether produced by an individual teen, groups of teens, a teen library club, or a teen school group, all exhibit creativity and illustrate quality work on the part of the industrious teen film makers. Many videos use humor or literary references to communicate the "Get in the Game - Read" idea. Others use more introspective and informative approaches, incorporating inspirational quotes and original music compositions. In addition to promoting reading and the "Get in the Game - Read" slogan, it is clear from all these videos that teens value their public libraries.
For their hard work and creativity, each winner for this year's competition will receive a monetary award of $150 and the awards can be used as each winner sees fit.
The Collaborative Summer Library Program (CSLP) is a consortium of states working together to provide a unified summer reading theme along with professional art and evidence-based materials so that member libraries can provide high-quality summer reading programs at the lowest possible cost and to play a significant role in literacy initiatives.