Share: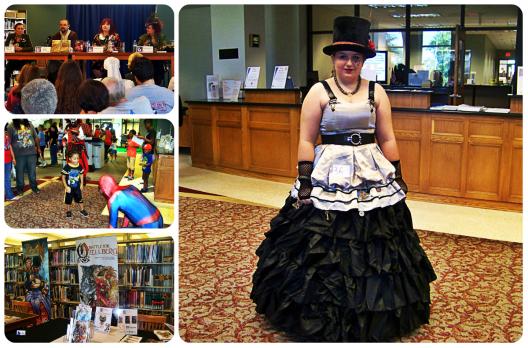 The Anderson County Library System hosted its 2nd Annual Electric City ComiCon on Saturday, August 6, 2016 at the Main Library in downtown Anderson. Over 2100 people attended, breaking last year's attendance record of 1700. Organized by Brianna McDonell (Digital Services & Reference Librarian), Sarah Holmes (Head of Extension Services), Sara Leady (Belton Branch Library Manager), and Dani Lubsen (Pendleton Branch Manager), the ComiCon featured panel discussions, gaming, crafts for children, Fan Art and Cosplay contests, anime screenings, and rooms full of artists and vendors. 
Panels included: "Literary Phoenixes – Young Adult Re-Tellings" with A.G. Howard, Jessica Khoury, and C.J. Redwine; "Steampunked – The Cogs and Gears of the World of Steampunk" with Kady Cross, Alan Gratz, and Cindy McLeod; "Fantastic Comics and Where to Find Them" with Deon Brown, Chris Schweizer, Robert Venditti, and Jeremy Whitley; and "The Stitches and Seams of Cosplay and Props" with Alan Gratz, Rob Sosebee, and Sybil Todd. And the library will do it again on August 5, 2017!
Pictured
Steampunk authors Alan Gratz and Kady Cross talk about the World of Steampunk with moderator Gypsey Teague and Steampunk Cosplayer Cindy McLeod at the Electric City ComiCon.
A Batman fan meets Spider Man at the ACLS Electric City ComiCon.
Comic author Deon Brown's table at the Electric City ComiCon.
A Steampunk fan is dressed up as a Alyssa from A.G. Howard's Splintered series for the Electric City ComiCon.
For more information, please contact Marybeth Evans, Anderson County Library Community Services Coordinator at 864-260-4500, ext. 107 or mevans@andersonlibrary.org.