Share: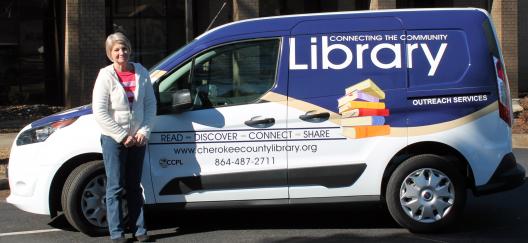 Thanks to a grant from the federal Institute of Museum and Library Services (IMLS) administered by the South Carolina State Library (SCSL), the Cherokee County Public Library is expanding its outreach services to the community. With funding from this grant, the library has purchased a 2015 Ford Transit Connect van which will carry books and other library materials to rural communities, agencies that serve seniors, apartment complexes, and daycare centers. A primary focus of these services will include increasing the number of homebound patrons the library serves, and reaching at-risk populations through a variety of programs and services. Through a partnership with Cherokee County Habitat for Humanity, the library's Bookmobile makes bi-weekly stops in the neighborhood to deliver books to children and adults. The Outreach Services van will enable the library to add storytimes, special programs, a Wi-Fi hotspot, and I-pads to the services it provides.
"The addition of the Outreach Services van allows us to make stops in places our large Bookmobile cannot go", says Library Director, Lana Gardner.  Gardner is working with the library's Bookmobile/Outreach Services Manager, Linda Sharpe, to coordinate the outreach sites and schedules. According to Gardner, the Bookmobile will continue its unique service in the community while the Outreach Services van can be used not only to deliver books and programs, but to participate in various community events.         
For more information about the Cherokee County Public Library and Outreach Services, contact Linda Sharpe at (864) 487-2711, ext. #19, or visit www.cherokeecountylibrary.org.
Photo: Linda Sharpe, Cherokee County Library Bookmobile/Outreach Services Manager