Share: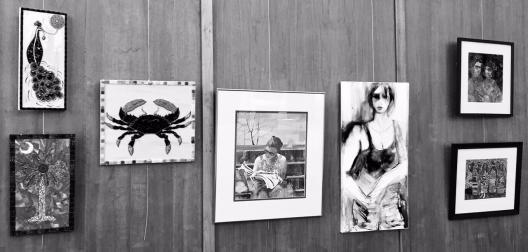 The South Carolina State Library is celebrating Women's History Month with art from women making history today which opens Wednesday March 8, 2017 and runs through April 3, 2017. The artwork on display shares the voice of many artists from around the state. Come enjoy the many formats of art on display including pencil, acrylic, oil, charcoal, mosaics, basket sculpture, pottery, photography, multi-media, and film.
Women artists from around the state have art on display at the SC State Library:
Abstract Alexandra
Amy Alley
Jessica Dame
Claire Farrell
Mayra Feliciano
Bonnie Goldberg
Roni Henderson
Sandy Knowles
Meg McLean
Ginny Merett
​Jane Olsgaard
Junko Rothwell/Courtesy, Portfolio Gallery
​Fran Sanderson
Katie Simmons
Carey Weathers
Patty Wright
Barbara Yongue
Included in the exhibit are many books from the Library's collection related to women of South Carolina. This month's display case features Remarkable Women of South Carolina: from the Collections of the South Carolina State Library, a selection of titles by, or about, accomplished women from South Carolina. 
The public is invited to stop in and view the art during regular business hours, 8:30 a.m. to 5:00 p.m.