Share: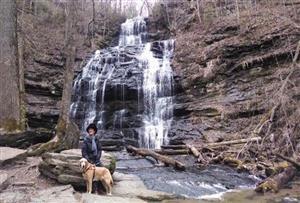 Talking Book Services advisory committee member, Ann Humphries is featured in SC Parks Director's newsletter column: 
Often we look for and find excuses to stay inside and avoid an outdoor adventure. There's television, great movies, sportingevents and video games to distract us, and in the South we also have to deal with the weather. Summer can be so hot and the bugs can make some trips just plain miserable. Every year someone will come up to me and say they wished they'd taken the time to see the spider lilies, or kayaked the river, or taken a particular camping trip or excursion. This is the perfect time of year to stop making excuses and get those last adventures in, and also start planning for fall adventures.
Earlier this year we held one of our most popular new programs, the Waterfall Excursion Series in the upstate. A park ranger guides small groups to some of the most breathtaking waterfalls in South Carolina. Park Rangers Jeff Atkins and Terry Conway were given a real treat this year when they led one of these trips. The rangers had received a call from a guest named Ann who wanted to know if it was okay to bring her service dog on the trip. Of course, Jeff and Terry said yes, but they were not expecting the service animal to be needed because Ann is blind.
Admittedly a little nervous, our team set off for an adventure with Ann and her service dog, Brego. Ann was well-versed in the natural environment and is an excellent birder. She was able to hear the songs of the birds and recognize them often long before others even saw them. Ann was able to hear the sounds of falling water and feel the drop in temperature near the falls, the small stuff that we often take for granted. As a team, Ann and Brego crossed creeks, climbed over logs, climbed up and down hills, dealt with the cold and had a blast. It was a valuable learning experience for us on how people learn differently, and with a little assistance, can experience the wonder of a state park. Ann and Brego have continued their adventures, and the two are in the process of re-discovering South Carolina's state parks.
Hearing about Ann and Brego's adventure reminded me to take more time to experience and enjoy all that nature has to offer, even the little sights and sounds that I often take for granted. It's easy to enjoy a waterfall, the salt marsh and the Blue Ridge Escarpment, but the sensations that accompany these sights can easily be overlooked. There's something really special about feeling the drop in temperature at the base of Rainbow Falls and the cool mist from falling water. How often do we stop to listen at night to the the crickets perform like a symphony, or see the darkness illuminated with lightening bugs. Reminding myself of these sensations and more have me thinking it's time to stop making excuses, and get out for an adventure. 
See you in the parks!