Share: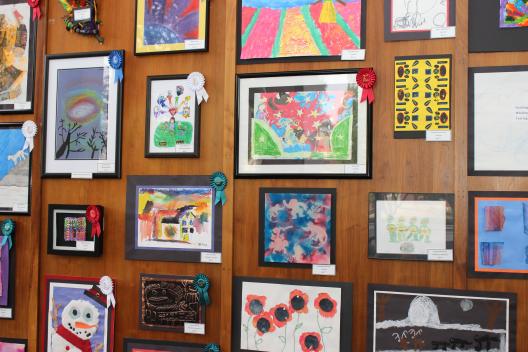 The South Carolina State Library prides itself on creating programs designed to help underserved populations across the state. And, during the months of April and May, 2017, the SCSL offered a fine arts creative outlet for the blind and visually impaired.
The South Carolina State Library Talking Book Services Student Art Gallery featured artwork created by 48 blind or visually impaired South Carolina students. The artworks were prominently displayed on the first floor, showcasing the artistic abilities of elementary, middle high, and homeschooled students. Each piece is unique: some depict rural landscapes, others abstract representations of woodlands and flowers.
SCSL Communications Director Dr. Curtis Rogers said, "It's always such a pleasure to see the creativity and artistic expression from students each year. When the exhibit is in place, we usually see a high number of visitors to the library since this is such a unique display of art seen nowhere else in the state."
Nine students, chosen by a SCSL staff vote, received awards during a reception April 12 starting at 11:00 a.m. SCSL Director Leesa Aiken chose one of the art pieces for a permanent display in the library facility. The TBS Student Art Gallery exhibit is just one a several programs the SCSL organizes to make sure all of South Carolina's residents get their chance to shine! Visit the State Library's Flickr album to see photos from the awards ceremony. 
For more information, please contact Sandy Knowles at 803-734-4611 or sknowles@statelibrary.sc.gov.