Share:
Thirteen-year-old Shelby Craig is from Summerville, South Carolina, but has been to Detroit fifty-five times. She has been making the trip once or twice a year since she was six-weeks-old to visit her eye doctor, Dr. Michael Trese. A pediatric retinal specialist with Beaumont Hospital, Dr. Trese sees children from all over the world. Shelby speaks very highly of her doctor. "Knowing Dr. Trese, I don't think there isn't anyone he can't get along with."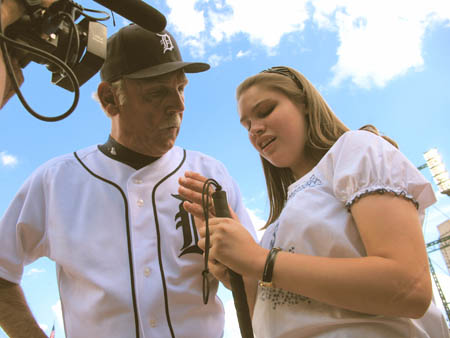 After spending the weekend in Detroit, taking part in the NFB's annual convention and Motor City March, Sheby Craig and her family spent Monday evening at Comerica Park for a Tigers Game. Shelby has a history with the Detroit Tigers. It's kind of a "guest of honor" type deal. "I've been singing before I started talking," explains Shelby. When she was six, she got to sing the national anthem before a Tigers game. She confessed that it wasn't her best performance, but that tonight she was here for personal redemption. Yes, an encore performance six years later.
We were escorted down to the field and found ourselves behind home plate as the grounds crew finished up raking the in-field. It was an awesome privilege to be down there, thanks Shelby. As the teams began to fill the dugouts, Jim Leyland, Tiger Manager, came over for a word with Shelby. Then, before we knew it, they were singing a duet of "God Bless America." He wished her well with some words of encouragement, and it was show time.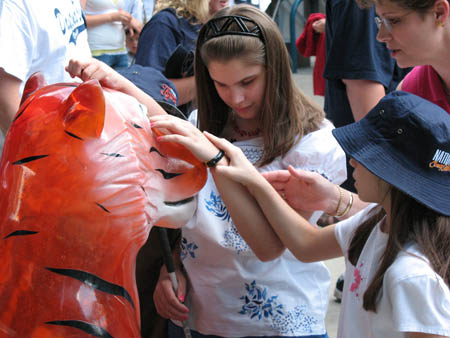 The music started and the crowd placed their hands over their hearts.
Shelby got her redemption. She sang beautifully. Hugs all around. The players took the field as we made our way back to the crowded maze of vendors and fans. After a victory ice cream, the Craigs went to their seats to enjoy the ballgame.
Thank you Shelby, and the Craigs, for spending your time with us. It was a real treat. We wish you the best, and Shelby, if you decide to sing for the Tigers six years from now, let us know. Either way, keep singing. You are a very talented young lady, and another shining example of a blind individual who has persevered in a world made for the sighted; quite an inspiration.
Shelby is a South Carolina State Library Talking Book Services user and recently participated in the 1st Annual South Carolina Braille Challenge.
Article courtesy Visionalist Entertainment Productions.