Share: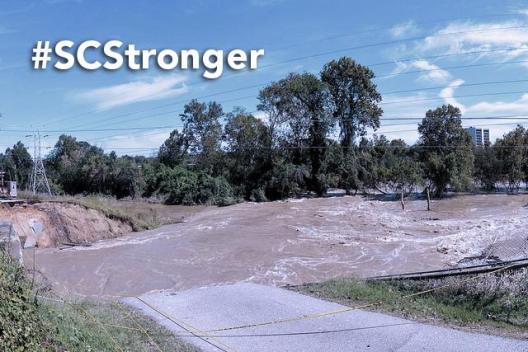 Written by USC Professor Peter Duffy, the play will examine how 2015  floods impacted the lives of SC residents
The South Carolina State Library will host Peter Duffy and other Midlands community members as they perform their play "And the Flood Goes On..." for the first time November 4. "And the Flood Goes On..." is an hour-long composite play based on the accounts of South Carolina residents who experienced the flood firsthand. This production is part of the SCSL's #SCStronger display, a special gallery designed to explore the 2015 flood disaster through the arts. The display will honor those who responded to the flood event and examine the impact it had on the state. Anyone interested in submitting artwork, photographs, prose, or poetry for the #SCStronger galley can do so here. The deadline is noon Friday, October 28. For further questions, please contact Sean Gruber at (803) 734-0462 or sgruber@statelibrary.sc.gov.
IF YOU GO
WHEN:  November 4. Doors open at 5 p.m. Play begins at 6 p.m.
WHERE: South Carolina State Library, 1500 Senate Street, Columbia, SC
COST:  Free
Photo: "South Carolina flood response" by U.S. Department of Agriculture Creative Commons License 2.0 | Changes were made to this image