Share: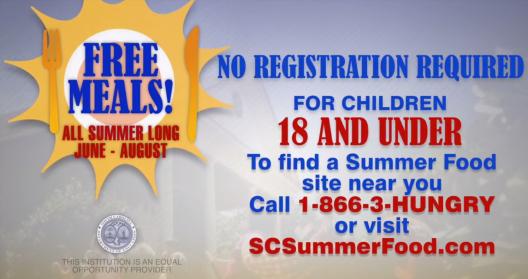 Libraries provide locations for annual food service program.
The South Carolina Department of Education and End Child Hunger SC are partnering for the Second Annual Summer Food Service Program Tour. The tour will begin Monday, July 10th and conclude on Friday, July 14th. The purpose of this tour is to raise awareness about the Summer Food Service Program and cultivate local community advocates for the program that provides up to 2 free meals a day to youths and teens ages 18 and younger. During the week-long tour, sites and sponsors will be highlighted in various counties throughout the state of South Carolina.
This year's tour will feature eight different sites in eight different counties. Each tour date will highlight a specific type of sponsor or site.  On Monday, faith-based organizations will be highlighted, Tuesday Boys and Girls Clubs and United Way, Wednesday libraries, and Friday YMCAs. Confirmed special guests include: local elected officials, pastors, community leaders, and representatives from the United States Department of Agriculture Food and Nutrition Services. All special guests will have the opportunity to observe the meal service and participate in activities with youth.
Child hunger is an issue plaguing many cities and states across the United States. Research shows one in four youth struggle with hunger in the U.S. During the school year, children have access to breakfast and lunch. However, many families wonder how their children will have their nutritional needs met during the summer months.
Families can locate the nearest summer meal site by:
Texting 'FOOD' to 877-877
The Summer Food Service Program is a federally-funded, state-administered program. The program reimburses providers who serve free healthy meals to children and teens in low-income areas during the summer months when school is not in session. SFSP began in 1968 and was an amendment to the National School Lunch Act. Today, the SFSP is the largest federal resource available for local sponsors who want to combine a child nutrition program with a summer activity program.