Share: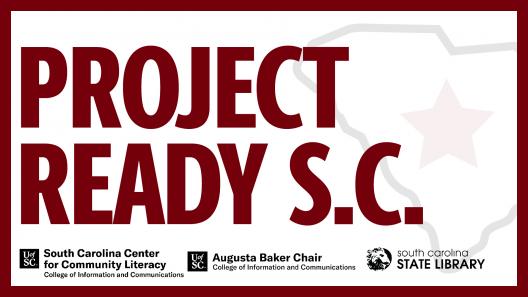 The South Carolina Center for Community Literacy, the Augusta Baker Endowed Chair for Childhood Literacy, and the South Carolina State Library are pleased to announce a Learning Cohort course for Project READY (Reimagining Equity & Access for Diverse Youth) S.C.!
This course will provide professional development for school and public youth services librarians, focused on foundational concepts relating to racial equity, with a focus on services to BIYOC (Black, Indigenous, and Youth of Color). It will incorporate the Project READY curriculum created at the University of North Carolina, and funded by an IMLS grant, designed to be used in conjunction with live meetings (in-person or online) and group discussions. A small group of school and youth services librarians will have the opportunity to join a statewide cohort to work through the Project READY modules and earn CEU credits.
For more information about the program, please visit the Project READY page, watch the video, or review the curriculum guide.
Project READY S.C.'s first cohort will start in October and continue through mid-April. Participants should plan on devoting approximately 2 hours each week to complete the modules in preparation for the cohort meeting discussions. The discussions will take place during a monthly face-to-face (Zoom) cohort meeting.
Applications for this free program close on September 4. Details and an application form are available at the Project READY S.C. Cohort page.
For more information, please contact Liz Hartnett (ejhart@mailbox.sc.edu) or Caroline Smith (jcsmith@statelibrary.sc.gov).