Share: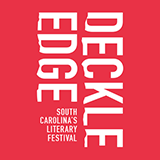 Returning for its second year, the Deckle Edge Literary Festival kicks off its festival week with a night at the Art Bar, one of this year's festival hubs, on Sunday, February 19th at 8 pm.  
Local authors will be on hand to sign and read from their books including Debra Daniel, Cassie Premo Steele, Don McCallister, Nicola Waldron, Al Black and Len Lawson, and Julia "Liz" Elliott, author of the novel, The New and Improved Romie Futch (2015) and the short story collection, The Wilds, which was chosen by Kirkus, Buzzfeed, Book Riot, and Electric Literature as one of the best books of 2014 and was a New York Times Book Review Editors' Choice.
The festival continues into the week with a One Book, One Community event on Thursday night, February 23rd in which Pulitzer Prize winning columnist Leonard Pitts, Jr. reads from his most recent novel – and this year's One Book selection – Grant Park at 701 Whaley Street at 7 pm. The event is free and open to the public.
On Friday, journalist and author Cokie Roberts will address festival attendees in an Opening Presentation at 4 PM at Richland Library.  Roberts joins Deckle Edge Literary Festival this year to address the importance of women's history and how her books for children grew naturally out of her adult offerings, from Founding Mothers: The Women who Raised our Nation in 2005 to 2016's Capital Dames: The Civil War and the Women of Washington, 1848-1868. News anchor, political commentator, daughter of political royalty, New York Times best-selling author Cokie Roberts is the author of more than eight books, primarily focusing on women's roles in political history. Her most recent work, the stunning picture book Ladies of Liberty: The Women who Shaped Our Nation, written with Diane Goode, is based on her acclaimed work for adults and is a follow-up to her children's book Founding Mothers.
Panels, presentations, poetry, barbeque and more fill out the remainder of the festival, which runs through Sunday February 26th, and all are located within walking distance of one another in beautiful downtown Columbia, SC.  For more information go to http://deckleedgesc.org.
Contact Annie@deckleedge.org 803.622.6874