Latest News
Friday, 31 January 2014 10:59
The South Carolina Academy of Authors is pleased to announce Nancy Brock of Columbia, SC, as the 2014 Fiction Fellowship winner.  Brock's short story, "Davy Crockett's Last Stand," was chosen by this year's judge, professor and author Randall Kenan of the University of North Carolina.
Read more...
Friday, 24 January 2014 09:31
Did you know that the Union prisoners of the Civil War played baseball? 
Early in the war, prisoners formed competing teams, sometimes including the guards.   A photo of inmates at Salisbury, N.C. depicts the game in Smithsonian Civil War: Inside the National Collection, a new book at the South Carolina State Library featuring more than 500 items from thirteen Smithsonian museums and archives.  The book makes that traumatic era come alive in a way that words cannot convey.  The Smithsonian museum, the "Castle" in Washington, D.C., was in existence and used as a national research center at the height of the Civil War, and has had much of the collection since the days and years just following the war.  Items that have never been included in Smithsonian exhibit books include an early portrait of John Brown, weapons that Brown and his men carried, making the mythic past more real.  Stop by and browse through this and other new books at the South Carolina State Library.
Thursday, 23 January 2014 09:05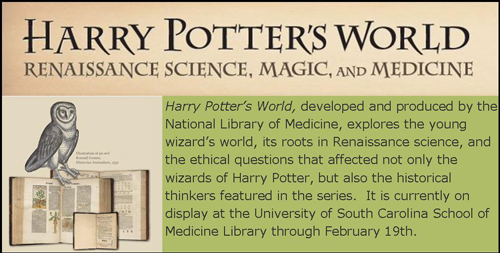 IN 1997, BRITISH AUTHOR J. K. ROWLING INTRODUCED THE WORLD TO HARRY POTTER AND A LITERARY PHENOMENON WAS BORN. Millions of readers have followed Harry to the Hogwarts School of Witchcraft and Wizardry where he discovers his heritage, encounters new plants and animals, and perfects his magical abilities. Although a fantasy story, the magic in the Harry Potter books is partially based on Renaissance traditions that played an important role in the development of Western science, including alchemy, astrology, and natural philosophy. Incorporating the work of several 15th- and 16th-century thinkers, the seven-part series examines important ethical topics such as the desire for knowledge, the effects of prejudice, and the responsibility that comes with power. This exhibition, using materials from the National Library of Medicine, explores Harry Potter's world and its roots in Renaissance magic, science, and medicine. It is currently on display at the USC School of Medicine library through February 19th.
<< Start < Prev 1 2 3 4 5

6

7 8 9 10 Next > End >>